Cabinet Refinishing vs. Cabinet Refacing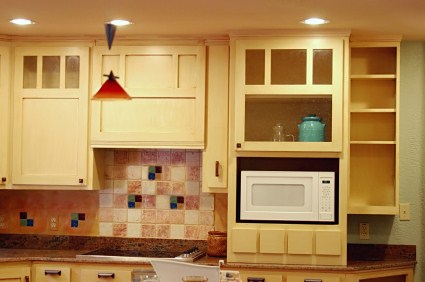 Why reface your cabinets when you can refinish them for a fraction of the cost? Cabinet Refacing is the process of removing the visible front surfaces of your cabinets (doors and drawers) and replacing them with new ones. The new surfaces will then be painted or stained to match the existing framework. Many cabinets that were built 20 to 30 or more years ago are actually better quality than the standard cabinets available on the market today. Why reface your cabinets with doors that may not even match the quality of your existing cabinets? Home improvement companies charge an average of $4000 to $6000 for cabinet refacing. Our professionally applied finishes run 40% to 60% less than cabinet refacing. Refinishing your cabinets might make more sense economically and help you keep your hard earned money in your pocket!
When Cabinet Refacing Makes Sense:
The quality of the cabinet doors is poor
The doors and drawers can not be refinished
Budget is not a primary factor in updating your cabinets
When Cabinet Refinishing Makes Sense:
Your cabinets are of good quality
The surfaces are generally in good condition
You don't want to overspend on cabinet refacing
Is Cabinet Refinishing the Right Choice For You?
Call LYF Painting & Remodeling for a free quote. LYF Painting & Remodeling has been a cabinet refinishing expert for years. Get a whole new look for your kitchen cabinets or bathroom cabinets with a fresh coat of paint or new stain, for a fraction of the cost of refacing them. LYF Painting & Remodeling offers quality and affordable cabinet painting. You can choose your colors to give your kitchen a whole new updated look, and at an affordable price. Get that kitchen makeover that you've been dreaming of!
Cabinet Refinishing Process
Our skilled cabinet stainers and painters will sand your cabinets to a smooth finish, repair cracks or dents, and fully prepare the surfaces for maximum adhesion. Next, we apply top quality stain or paint to the surfaces. Cabinet refinishing by LYF Painting & Remodeling will meet your expectations and suit your budget.Give your old cabinets a new life! Call LYF Painting & Remodeling for cabinet painting or staining to enhance any room. With years of cabinet painting experience, our craftsmen are unmatched in delivering beautifully refinished cabinets to the delight of our customers. Let LYF Painting & Remodeling update the look of your existing cabinets keeping you within your budget!